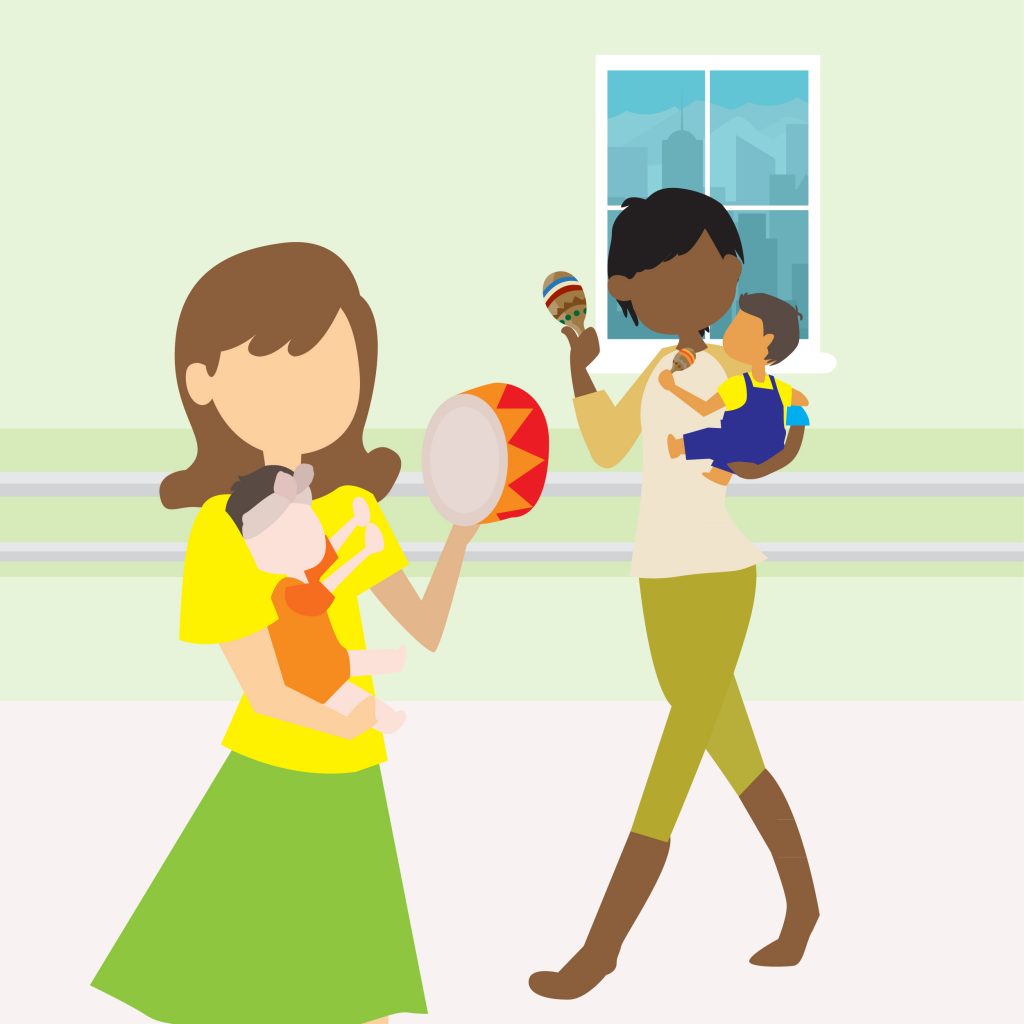 Baby Tunes
Music gives babies a rich sensory experience. Tastes, smells, textures, environments, colors and sounds – these experiences create pathways in their brains to create well-developed and balanced children. Babies learn physically and emotionally. We use movement to music to enhance their experience and prepare them to continue to grow. Parents have the opportunity to work and play with their babies through music and movement in our 45 min. music class. This not only builds their musical knowledge but also builds a stronger bond with the parents.
Ages: 0-3 years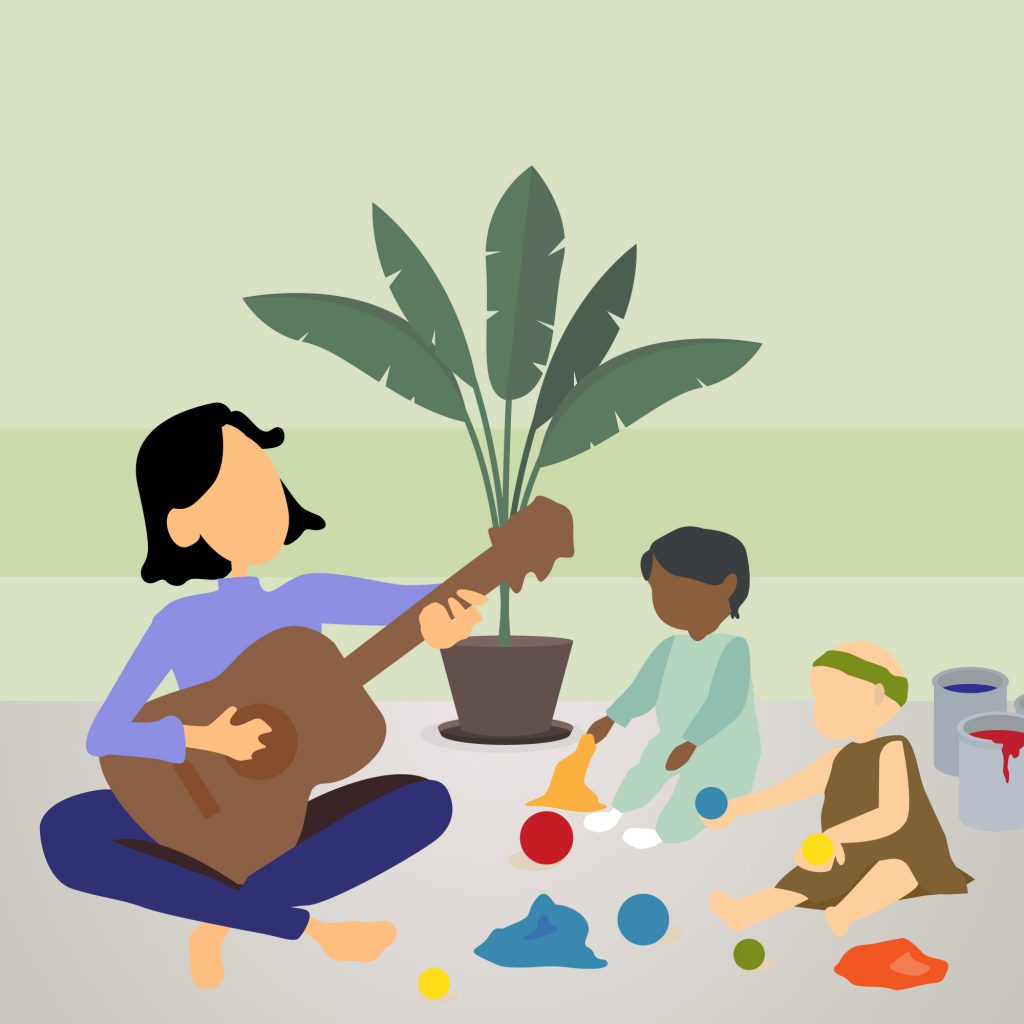 Touch, Move, and Sing
Before your baby leaves the womb, the senses are already starting to grow. Bring your baby or toddler to explore tasting, hearing, smelling, touching, singing, moving, and seeing through fun-filled activities. Not only do children's senses develop, but also they get to improve and develop their gross and fine motor skills.
Ages: 0-3 years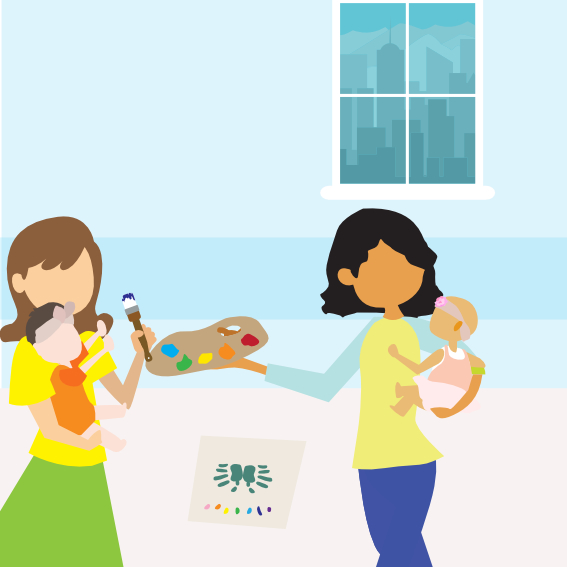 Mamis, Bebés y Arte
En esta clase de habla hispana, las mamás y sus bebés se conectarán a través del mundo del arte sensorial, las habilidades motoras y relacionales del niño se estimularán por medio del juegos, la creación de pinturas, de objetos musicales con una gran variedad de técnicas y de materiales del arte. En un entorno divertido y creativo, las mamás compartirán y los niños activarán sus sentidos y ejercitarán habilidades vitales para su desarrollo cognitivo.
In this Spanish speaking Sensory Art class, Mom's and children connect through the world of art and sensory activities to encourage the building of the children's motor skills, relational skills, and cognitive growth. Babies activate their senses through the creation of paintings, musical objects, various art forms, materials, and techniques. Through these activities, vital developmental skills are learned in a fun and creative environment.
Ages: 0-3 years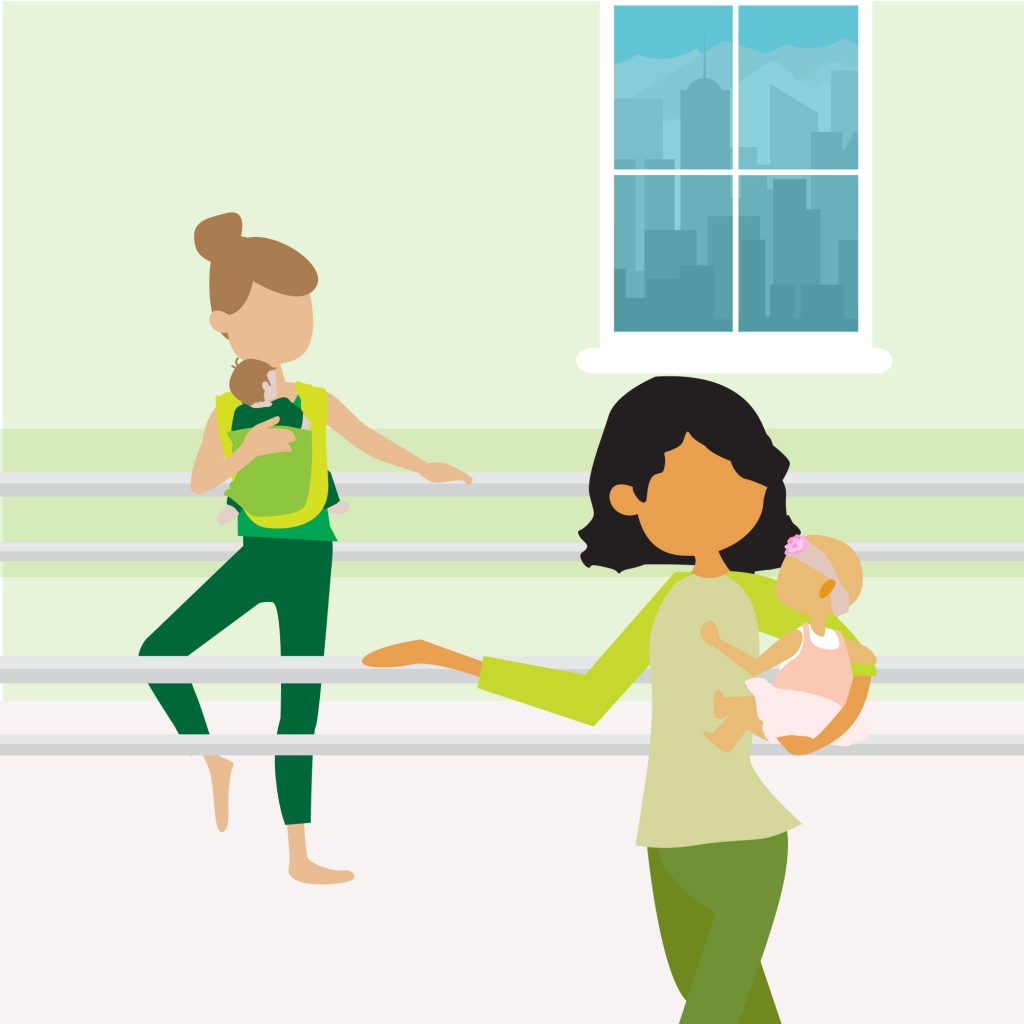 Bebés Salseros
Get ready to dance your socks off with your bebé in our Bebés Salseros class! Experience the delight of dancing and bonding with your baby, as you move and groove to Latin American music. In our bilingual (Spanish, English) Parent & Me Dance class, you get to experience freedom in dancing while learning simple steps of Salsa, Merengue, Bachata, and Cha Cha Cha. Using percussion instruments, songs, and moving to the groove of Latin rhythms, you experience joy, freedom, and creativity while having fun with other parents.
Ages: 0-3 years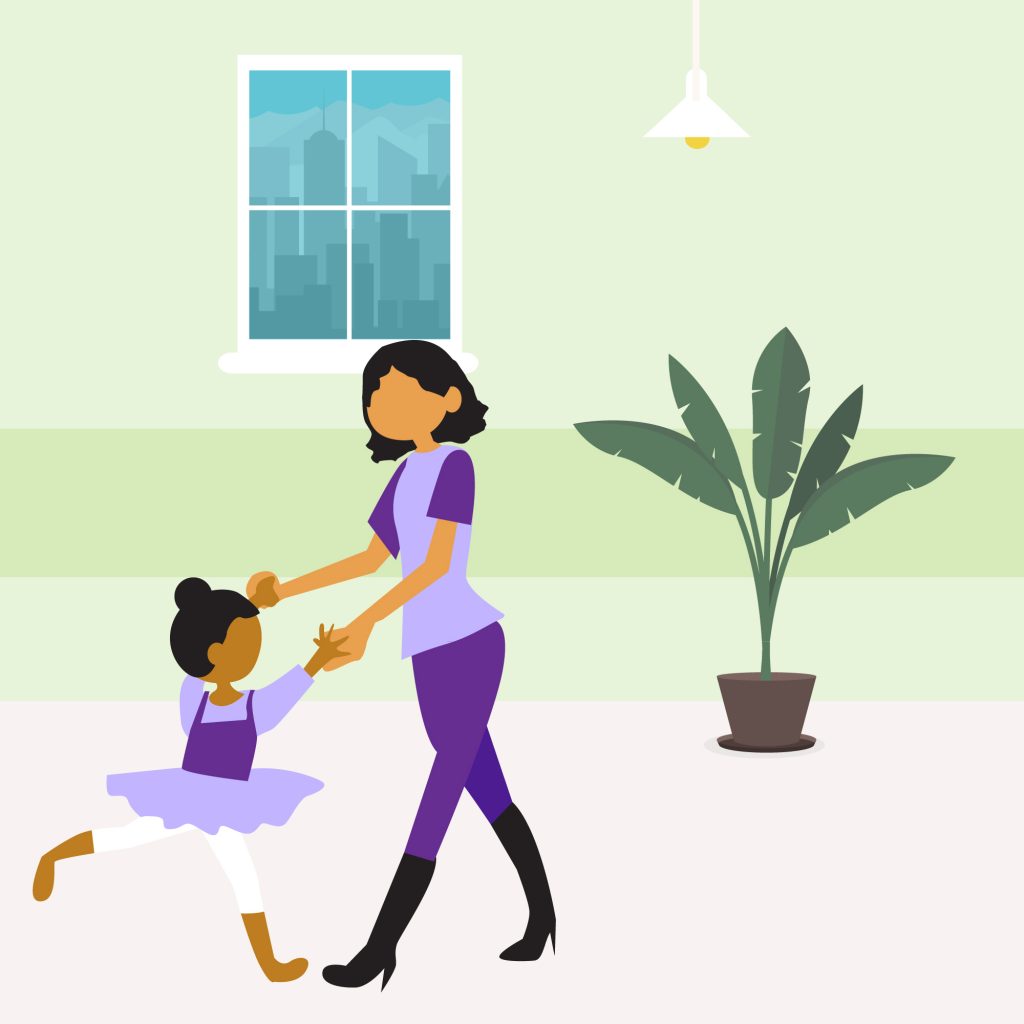 Tiny TWO Pre-Ballet (Creative Dance)
Link n Learn Tiny TWO Pre-Ballet awakens the mobility of joints and sense of rhythm in each child, fundamental for ballet. By using colorful props and images, the little ones are guided through a myriad of movements, developing coordination, flexibility, and a sense of balance. Children learn to move individually as well as in a group. They experience the joy of moving as they discover new sensations of their body in space.
Ages: 2-4 years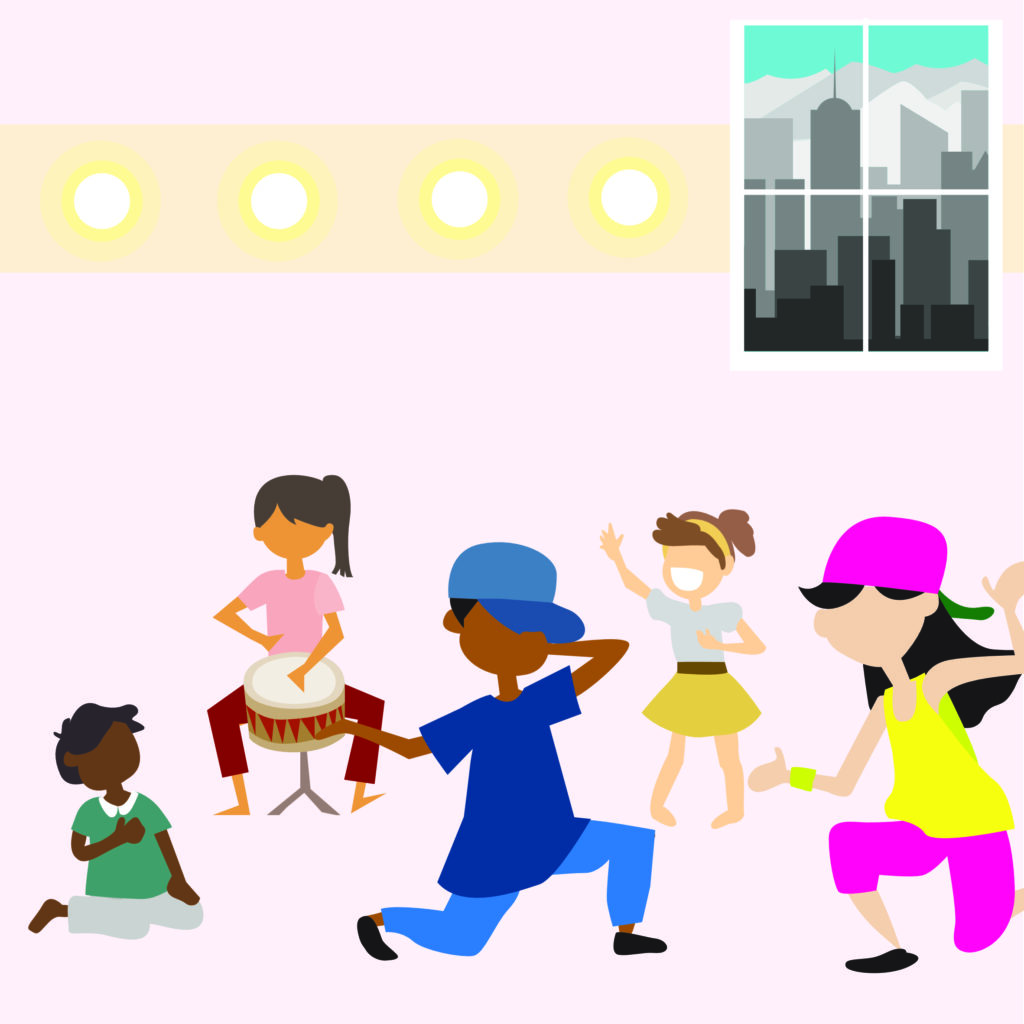 Mini Performers
Welcome to our brand new class! Imagine musical theatre and musical dance classes for our super junior performers. A combination of the basics of acting, theatre games, dancing, and performance, we have all the elements needed to nurture our mini talents. With the help of their big person and instructor, we guide them into the wondrous world of performing arts, one step, note, and word at a time!
Ages:0-3, 2-4 years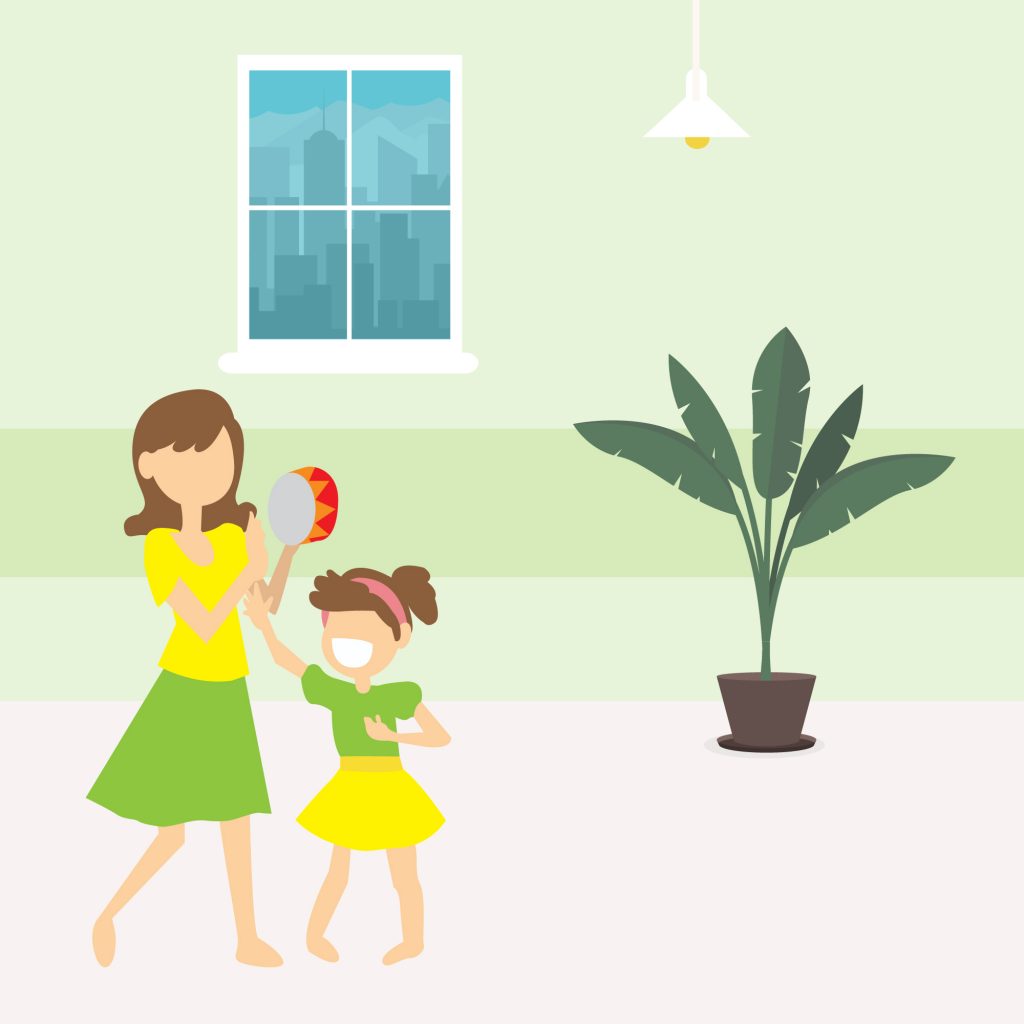 Mini Tunes
Before children speak, they begin to hum or mimic the sounds they enjoy in the world around them. In our introductory music classes, we start building a child's musical abilities. Through musical games and play, covering basic introductory topics such as pitch, rhythm and self-expression, we aim to help children find their creative voice as they continue to experience the world around them.
Ages: 2-4 years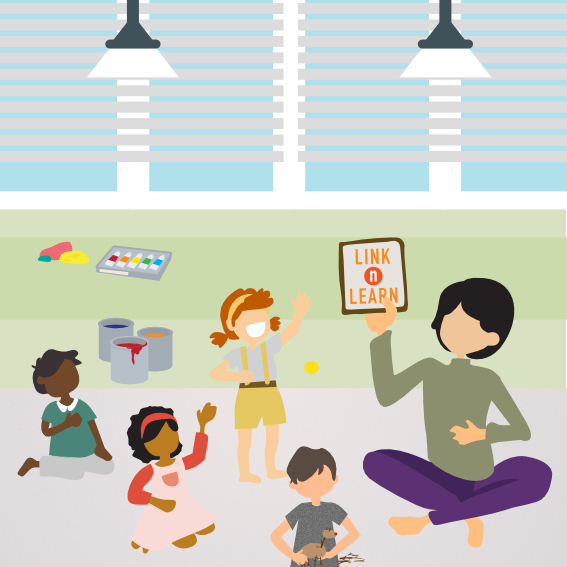 Interactive Art and Storytelling
At our hands-on Interactive Art & Storytelling class, we help children to spark their imagination by bringing the characters and stories to life through arts and crafts. Our children not only experience the world through creativity, but also develop their fine motor skills, listening and language skills which are enhanced through reading, imagination and interaction with each other. This class can be done with or without parental support. 
Ages: 2-5 years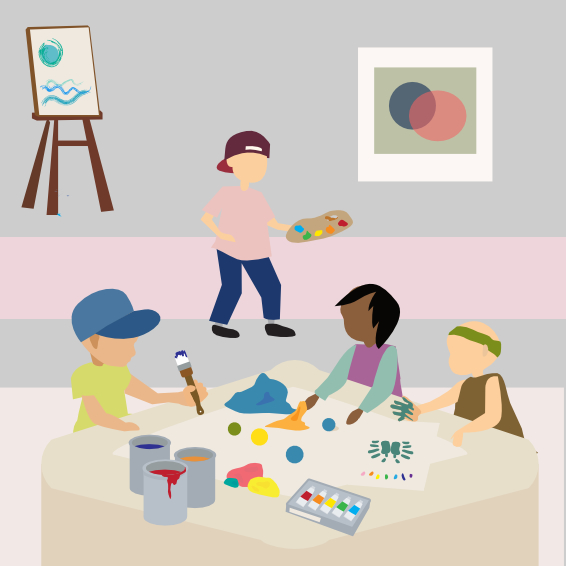 Artistas Chiquitos
Creation and Imagination Station- Here we come!. During this class kids have the freedom to explore new artistic techniques, using materials to create and form contemporary art. Kids draw out their creativity, confidence, social interaction, and develop strong cognitive skills aiding their life long development. This class is taught in Spanish and can be done with or without parental guidance.
Naturalmente, los niños son creadores e imaginadores dotados. Durante esta clase tendrán la libertad de explorar nuevas técnicas artísticas, materiales y formas de expresión para crear sus propias obras a través del arte contemporáneo. La creación de su arte, enseñada a través de la hermosa lengua española, sacará a relucir su creatividad, confianza e interacción social, a la vez que desarrollará fuertes habilidades cognitivas y ayudará a su desarrollo a lo largo de la vida.
Ages: 2-5 years