Ioulia Kokkokiou is originally from Greece. Born in 1988, she studied dance at a private dance school (Higher Professional Dance School of Stavroupoli-Thessaloniki, Greece) where she was introduced to different dance subjects (ballet, Graham and Hawkins technique, choreography, music). In October 2016, she enrolled in the Master of Contemporary Dance Education at HfMDK (Frankfurt Am Main) in order to gain new artistic and pedagogical tools. During her studies, Ioulia had the opportunity to focus on how dance could be transmitted and communicated in diverse groups and in several institutions, to explore diverse methodological approaches and different teaching formats (collaborative teaching) and to investigate the social aspect of dance.
During her years in Greece, Ioulia collaborated as a professional dancer with Rena Papadopoulou and Despoina Stomach. Together they created several choreographic pieces such as "Choreographing Bach" (Thessaloniki Concert Hall, 2013) and "Insomnia" (Thessaloniki Concert Hall, 2015). When she moved to Germany in 2015, she started to collaborate with Maria Eckert, Emmanuel Gazquez and the members of the Delattre Dance Company. After completing her studies in July 2018, she collaborated with a choreographer Grace Euna Kim and she participated as a performer in her project "A Prelude to the Last"(Frankfurt Lab, Frankfurt Am Main).
As a dance teacher, Ioulia taught ballet, modern and contemporary dance classes in several private dance schools. Throughout the two years of the master program, Ioulia taught contemporary dance classes in Hochschüle für Musik und Darstellende Kunst (Frankfurt Am Main), in K3 – Zentrum für Choreographie (Hamburg) and in North Karelia College (Outokumpu-Finland). In addition, she participated as a dance teacher to the project "Past Present Future", a collaborative project with Tanzfonds Erbe Villa Wigman für Tanz e.V. (Dresden) as well as in the site-specific and participatory project "Spatial Counterpoint" (Paphos, Cyprus).
Ioulia understands dance as a strong medium of communication and as a type of language unique for everyone. Therefore, Ioulia focuses on creating an educational and artistic environment where she investigates group processes and dynamics and the relationship between the individual and the group. She also aims to reinforce children's creativity and self-expression, to cultivate self-awareness and to transmit the joyfulness deriving from dance.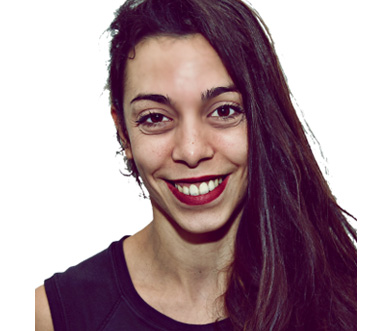 Ioulia Kokkokiou
Ballet / Contemporary Dance