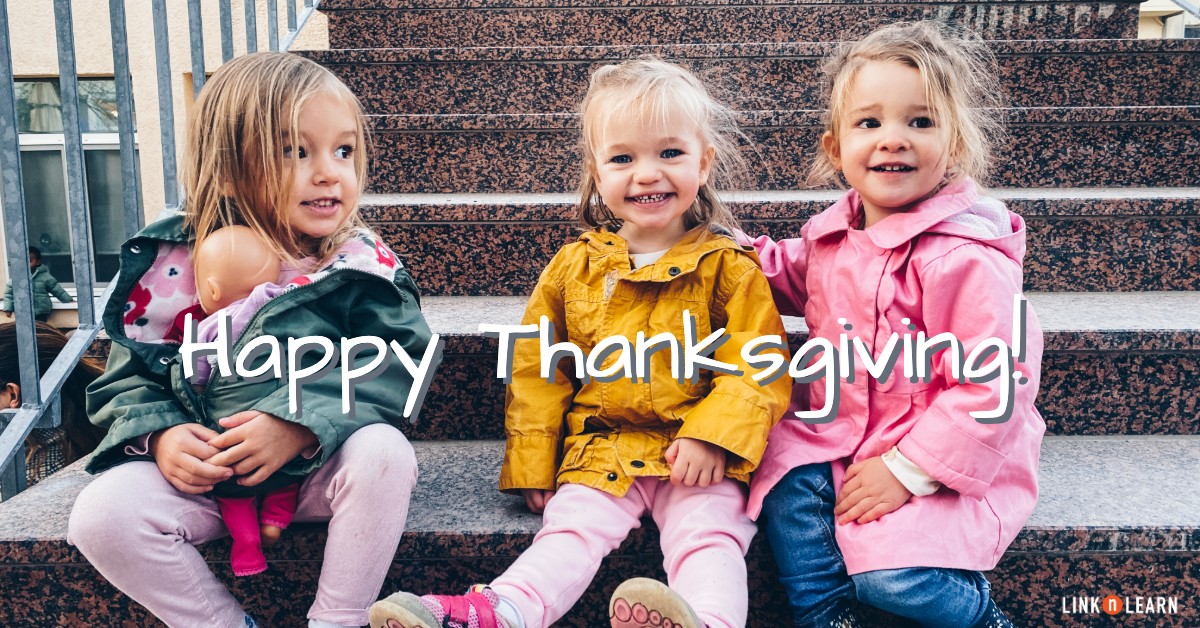 Today is Thanksgiving, and we have so much to be thankful for. 
In this season we have found ourselves looking back and remembering all of the amazing things we have done. The people we have had, and have continued to have as a part of our community. We think of our pilot program, which started just under 3 years ago with a small group of parents and children in Oberursel. We think of our previous Show and Tell performances and our journey into starting at our Frankfurt campus. The endless classes, the laughs, and the connections that have been built at Link n Learn over the past few years. 
Sometimes we have to stop and remember how far we have come, and that we really have so much we are thankful for! With the current pandemic and regulations, this Thanksgiving is looking much different this year than it has before. But, our thankfulness has not changed, if anything it has only increased! Corona has been a huge challenge for everyone, and in the beginning it hit all of us at Link n Learn really hard. Through this challenge, we have seen the kindness, encouragement, and love from Link n Learn families like never before. Whether this was your first term, or you have been with us for years, we have felt so uplifted and supported throughout this whole pandemic.
We want to give an extra special shout out to the families who have stayed with us through thick and thin. The families who remember our pilot program, or who were with us at Oberursel – we are so grateful for your commitment and dedication to our Link n Learn community. Your messages, gifts, and words of encouragement have brought us so much joy and hope, and for that we are so thankful! It has been amazing seeing your children grow-some of them from babies- to big walking and talking children! It has and will continue to be, a huge privilege for us to support and invest in them. Seeing children who came in so shy, blossoming into confident, talented, and incredible young boys and girls is what makes Link n Learn what it is. We are beyond proud of them. 
Over the next few weeks in the run up to Christmas, let's take time to focus on the incredible things which have happened this year. The world is currently full of fear and negativity, but once you start counting all the things to be thankful for, the list is endless. Of course, there is so much uncertainty as what the remainder of this year and 2021 will look like, but we stay hopeful and thankful that we get to do this together, as a community.
Have an amazing Thanksgiving celebration!