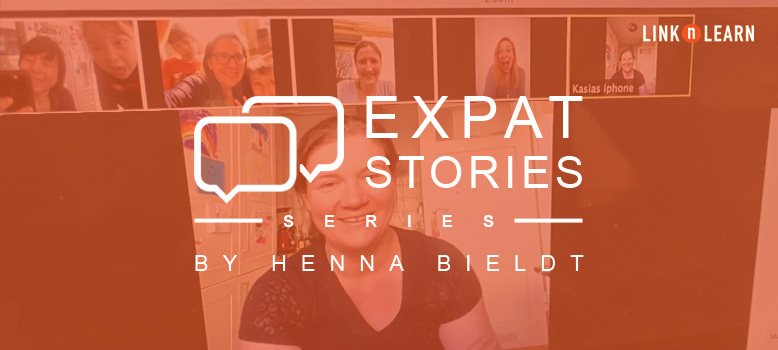 It's been one week…
One week since we heard that the schools will be closing for 5 weeks. 
And we thought: "Well, this can surely not get any worse…"
Then Monday happened: No more Playgrounds.
Then Tuesday: No more museums, libraries, bars and clubs.
Then Wednesday: All non-essential shops are closed.
Then Thursday: STAY HOME AT ALL COST.
And to top this off, on all these days there were no toilet paper, long life milk or pasta to be found in any supermarket in all of the world…
We are almost living under full lock down because of COVID-19. And to be honest, I'm still struggling to get my head around it all. Everything happened so very fast… 
If you asked me what I thought about it a week ago, I would've made a joke about the whole thing. I'm South African. I can't help it. I feel like we're the people at the back of the class who laugh and make jokes about EVERYTHING. (Don't judge us. It's how we deal.)  I had such a laugh on my way to Link n Learn about the people holding in their sneezes and coughs on the train – clearly allergies – and how other people would look at them like they just did the most atrocious thing ever when it accidentally slips out. 
Ever the rebel, I don't like applying myself to stupid rules that doesn't make any sense. And I was very quick to see the holes in all of these new "rules":
Do the Corona Shake – ARE YOU KIDDING ME?! You teach people to sneeze and cough into their elbows. And now you want them to touch each other with each others elbows… No sense. I prefer the Nama-Stay-Away. (Small head bow, hands together as if you're praying, and then a show-of-palms as if you are pushing them away. Works like a charm.)
No School for 5 weeks – ARE YOU KIDDING ME?! But the playgrounds are open… This doesn't make…. And right about mid sentence I'm guessing the authorities heard me roll my eyes into the back of my head and closed the playgrounds. (Sorry, you can totally blame me for this one. I'm okay with it.)
All the bars and clubs are closed – ARE YOU KIDDING ME?! I'm a mom. I barely go out anyway. I'll have a Corona Party at home with wine and actual Coronas and invite a few… And because they are always listening, they specifically said no Corona Parties at home… Also not a complete loss. I'll just have some wine… Alone… (I'm not crying… You're crying!)
Social Distancing – ARE YOU KIDDING ME?! Sure. Okay. I will not see anybody all week, and then on Saturday, go to the Supermarket and fight with 23 other people over the last 6 bananas and a pack of toilet paper. This one was kind of sorted out by the Panic Buyers. The shops here are luckily mostly stocked again for the non-panicked people to do some non-violent grocery shopping. Phew!
I've always believed that you never know how strong your immune system is until you have kids who (and this is ALL of them) sneeze directly into your eyeballs. So after 3 kids, mine is pretty strong. But reading the (correct) information about COVID-19, made me realize that even though my family's immune will be strong enough to fight this, there are loads of people out there who are not so lucky. And that's the problem. That made me change my tune very quickly. 
It would be extremely selfish to think that because this doesn't or hasn't effected me (yet), that I don't have to do or change anything. Not my circus, not my monkeys, right? Wrong! We all know people who either have children or parents or grandparents or someone else in their circle who does not take well to illness or who has serious immune deficiencies. We are staying home for those people. It's a small sacrifice to make to save lives. And what a wonderful thought that is: You are basically being the ultimate Superhero. Sacrificing your own needs to save someone else. Epic stuff!
So I came up with a set of  Rules and Regulations (Terms and Conditions apply) that even the most hardcore rebel won't be able to find cracks in. Here they are:
Plan – If you're anything like me, you always make plans to set aside time to set-up a task force that will make a spreadsheet that will be able to help you plan to make those plans you plan to make. (Read it again. It makes complete sense after the third time) But seriously, Set up a Meal Plan, make a list and go shopping once a week to get what you need. Go early to avoid the rush.
Buy local – That's right. Buy from the Farmer's Market. Go to the Milk Automat. Buy your coffee, bread or meal at that small place around the corner. These businesses need your support now more than ever. Also, if you have friends with their own businesses, make an effort to support them. Like and Share their posts on social media platforms. Even if you can't use their products or services yourself, there might be someone out there who can.
Be careful what you read – This is so important. You can't trust and believe everything you read and hear. Filter your feeds. Spread true and good news. Stay calm.
Wash you hands – For 20 seconds. Don't be gross.
Get some fresh air – That's right. IF you are healthy, go out for a walk. A quick one. Around the block and back. Or at least open your windows. Socrates said that the Sun and Salt should be your only medicine. Go get that Vit D.

 

Put a smile on your face – This is a very serious time. But that doesn't mean that your spirit should be heavy. Be light. Laugh and smile as much as you can. It's also good for the Immune!
Get Social without getting Social – Stay in touch with the people in your world. Social Distancing does not mean Social Exclusion.

 

Find out how people are doing. Check in with them. It's a tough time for everybody. We should look after our bodily health as well as our mental health.

 

Be kind – Always. To everyone. Even to the people who sneeze behind you in the grocery line… Especially to the people who sneeze behind you in the grocery line.
Last night, one of the students I tutor asked me whether I think all this fuss is really necessary.
What I think, is absolutely irrelevant. It's not about me. It's about ALL of us. Every single human on this planet. It's our social responsibility to do as we are told in this time.
Sure. It's hard not to be able to buy what you want, at any shop, any time of the day. But do you really need all that stuff? 
Sure. It's hard not to be able to go where you want, when you want, how you want. But do you really need to? 
Sure. It's hard not to be able to see your friends. But do you really need to do that in person? Our phones have basically replaced cutlery at the table. Now is the time to be thankful for technology.
This is the perfect time to take stock of your life. Open your window. Clean your room. Read that book. Learn a new skill. Call/WhatsApp/FaceTime that friend or family member. Just rest. 
And before you know it, it will all be over.
Author: Henna Bieldt